Automobile
Best Electric Cars in India – With Price & All Details (2021)
It was long back when owning a car in India was a luxury. However, along with changing trends, cars' need increased, and it became a necessity from a luxury. The increasing demand for cars increased the level of competition between the manufacturers. The rise in competition level pushed them to bring in the use of new technologies and offer a better product. Owing to the interest of people, many manufacturers introduced their electric cars. The trend of using the best electric cars in India started a few years back to decrease pollution. 
Presently, many manufacturers have their electric cars running on the roads of India. But do you know which one is best for you to use on a regular basis? Well, the answer will probably be no, and it's common because we don't have knowledge about these cars. Here in this article, we will represent India's best electric cars for your ease in choosing the desired one. 
Which is the Best Electric Car in India?
1
Tata Nexon EV
The Tata Nexon EV comes in three different color options and variants such as XZ+, XM, XZ+LUX. It features a 2.0 design language with a sporty central grille. Also, Nexon EV has specs such as a wide grille, tri-arrows, and signature line running between lamps. The higher variant of the car also comes with 16-inch diamond-cut alloy wheels and dual-tone body color. Talking about its dimension, the Tata Nexon EU has a wheelbase of 2,498mm, and it is 3,993mm long, 1,606mm tall, and 1,811mm wide.    
It is powered by a Ziptron electric powertrain motor that produces 129 PS and a torque of approximately 245 Nm. Also, it draws power from the 30.2kWH battery present in the car and offers an ARAI claimed range of 312km. The Nexon EV's powertrain model supports fast-charging and is capable of charging the battery from 0-80 percent in an hour. This vehicle's safety features consist of a rear parking camera and sensors along with dual airbags, ABS with EBD. 
Car Name: Tata Nexon EV
Engine Transmission: Automatic 
Kerb Weight: 1400 Kg 
Price: Rs.13.99 lakh Onwards
2
MG ZS EV 
MG is considered to be the only electric SUV present in the market. This car features a 44.5kWh battery claiming to offer an ARAI range of 340 km. The electric motor of MG produces a power of 143 PS along with 353 Nm of torque. It takes around 8.5 seconds to reach an acceleration from 0 to 100 kmph. 
There are ample plastics in soft-touch quality desirably wrapped in leather bits present on both the central console and dashboard. The driver information dash is known to be an all-color digital center encompassed by two easy dials. The MG ZS EV comes in 'Excite' and 'Exclusive' two different variants. Also, adding the best soundbar in your car will enhance your traveling experience. 
Car Name: MG ZS EV
Engine Transmission: Automatic 
Kerb Weight: 1568 Kg 
Price: Rs. 20.88 Lakh Onwards
3
Tata Tigor EV
The new Tigor EV is going to be launched as one of the best electric cars in India under the sedan segment. The styling upgrades in the electric variant are quite similar to BS6-compliant Tigor. This sedan is powered by an electric motor that aims to produce 41 PS and 105 Nm of torque. It is equipped with a battery of 21.5 kWh and claims to provide an ARAI range of approximately 213 km. The safety features of the car include ABS with EBD, dual airbags, and rear parking sensors. 
Tata Tigor EV supports 0 to 80 percent charging in about 2 hours and using a regular charger it takes around 11.5 hours for complete charging. Talking about its dimensions, Tigor is 1677 mm wide, 3992 mm long and 1537 mm tall along with a 2450 mm wheelbase. Tata Tigor EV features 14-inch alloy wheels, halogen headlamps and LED tail lamps. From inside it is equipped with an infotainment system supporting Aux-In and USB. 
Car Name: Tata Tigor EV
Engine Transmission: Automatic 
Kerb Weight: 1516 Kg 
Price: Rs. 9.54 Lakh Onwards
4
Best Electric Car in India: Hyundai Kona Electric
Hyundai Kona Electric car was listed in Guinness Book of World Record list to be the highest altitude reaching the electric car. It debuted as the first long-range EV claims to offer ARAI of 452 km. The electric motor of the car produces a power of 136PS and torque of 395Nm. Kona Electric claims to reach from 0 to 100 kmph in a maximum of 9.7 seconds. It is available in only two variants with some specifications and price differences. There are five different color options available such as Polar White, Typhoon Silver, Marina Blue, Polar White, and Phantom Black. 
It has some extravagant features such as a 7-inch touchscreen infotainment system, wireless charger, voice command recognition, front ventilated, dual-zone climate control, and heated seats. Also, it comes with additional features like a 10-way power driver seat, heads-up display, 8-speaker KRELL audio system, cruise control, and electric sunroof. Finally, Hyundai Kona Electric maintains passengers' safety with six airbags, blind-spot detection, autonomous emergency braking, and ABS with EBD.
Car Name: Hyundai Kona Electric
Engine Transmission: Automatic 
Kerb Weight: 1535 Kg 
Price: Rs. 23.71 Lakh Onwards
5
Mahindra e2oPlus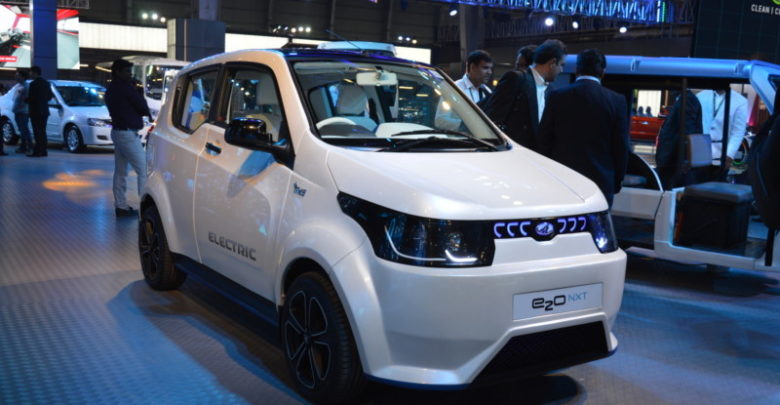 It is the only all-electric hatchback in India and takes around 75 minutes to get fully-charged with a fast charger. In contrast, it gets complete charging in 6 hours with a standard charger. Mahindra's eco-friendly car's contemporary design makes its footprint feel a bit smaller compared to other cars. There is no presence of dearth of space inside the cabin, and the credit goes to innovative technology and less moving parts used in manufacturing. 
E20 Plus feature highlight present in the cabin includes the touchscreen infotainment system, automatic climate control, digital instrument cluster, and smartphone integration. It is powered with a 280 Ah lithium-ion battery producing a maximum torque of 70 Nm along with 20.8 PS of power. This Mahindra electric car model is equipped with a direct drive gearbox along with two forward modes. These modes are brought in use for directing the power to the wheels. 
Car Name: Mahindra e20 Plus
Engine Transmission: Automatic 
Kerb Weight: 937 Kg 
Price: Rs. 7.57 Lakh Onwards
6
Mahindra e-Verito
This variant of Mahindra car comes in the sedan segment, unlike the e20 plus. The car features a three-phase motor along with an AC induction offering immense boot space. The car's boot space is about 510 liters, making it the best option for storing large bags and other equipment. The 72V electric motor equipped in the car helps in producing power of about 41PS at 3500 rpm along with a torque of approximately 91Nmn at 3000 rpm. 
This car's standard charging time is around 8 hours, but the top-end variant features super-fast charging. It takes about 1 hour and 45 minutes for the car to get fully charged. Also, it comes with features such as tubeless steel wheels and electro-hydraulic power steering. The car is said to be available only in a single color variant that is Diamond White Shade. 
Car Name: Mahindra e-Verito
Engine Transmission: Automatic 
Kerb Weight: 1265 Kg 
Price: Rs. 10.11 Lakh Onwards
Buying Guide for an Electric Car
Purchasing the best electric car in India a crucial investment, and you would not like to waste your money on a low-quality vehicle. This is where you should look out for some specific attributes and bring them in consideration for a beneficial purchase. It can be tricky to choose an electric car for your use as some complex technical terms need to be understood. Let us get to the points that will help you better purchase an electric car. 
Price
Electric vehicles are considered to be friendly for the environment, but they are not friendly for your budget. Electric cars are expensive in comparison to other cars because they have expensive battery packs and complex electric drivetrain. So, you need to keep your budget in mind before hooking to an electric car for purchase. 
Software Updates
Electric cars feature all the new technology and complex powertrain, and the manufacturers aim to improve their electric cars by rolling out software updates with the latest technology. Therefore, make sure that you are receiving regular updates of the software for your electric car. Some manufacturers provide the ability to get updates free of charge, while others charge their customers for the updates. You need to act wisely and make an informed decision while choosing an electric vehicle. 
Specifications
Electric cars have a wide range of battery packs and electric motors of several capacities. You need to rely on a vehicle that consists of all the specifications matching your requirements. It can be frustrating for you to ride an underpowered electric vehicle. Therefore, it is recommended to thoroughly go through the car's technical details before you decide to buy one. 
Driving Range
It is one such important factor that needs to be considered while buying an electric vehicle. You should never rely on the manufacturer specified driving range attributes. Instead, look at the real-life reviews to grab a better idea of EV's driving range in real-world conditions. An electric car is usually bound to deliver a driving range of approximately 100km, and that is sufficient for daily drivers. On the other hand, high-end electric cars even provide a driving range of more than 400 km. 
Practical Usability of Electric Vehicle
An electric car is considered to be a non-practical vehicle for countries such as India. The practicality of a vehicle depends on your needs, such as how much distance you drive in a day, and what is the driving range of the car? Well, it makes sense to consider an electric car if you are residing in the metro cities of India and all you need is a car for commuting to the office daily. For others, it might not turn out to be a practical choice for purchasing an electric car. So, you need to consider these points highly before buying an EV. 
Electric or Hybrid?
If an electric car purchase isn't practical for you, then you can choose a hybrid car. A hybrid car produces low emissions in comparison to any other conventional car. A hybrid car uses an amalgamation of electric motor and internal combustion (IC) engine to run efficiently. The car's electric motor also draws the power from battery packs that are typically charged by an IC engine or regenerative braking. Hybrid vehicles are a reliable option when compared to completely electric vehicles. 
Charging Infrastructure
The charging infrastructure is presently in its budding stage all over the country. It ain't common to find electric vehicle charging stations like fuel stations. This is one of the biggest challenges for EV owners. Major metro cities consist of ample charging stations, but the situation isn't the same everywhere. So, you also need to consider this fact before making up your mind to purchase an electric car in India. 
Charging Options
An EV comes with an extensive collection of charging options like standard charging, fast charging and slow charging. It is quite expensive to install the fast-chargers, and you can hardly find very few of them present in your city. On the other hand, slow charging and standard charging options are feasible, and they can also be installed at your places. Some of the electric cars have the ability to get power from the electric outlet of your house. Therefore, consider the charging options present on the electric car you are considering to purchase. 
Another good read for you – Best Scooty in India
Buying The Best Electric Car In India – A Nutshell
By now, we all are well-aware of the fact that electric cars are environment-friendly. But, choosing any one of them can be really painful. In India, we all make our decisions very carefully, and when it comes to investment, considering a decision as many times as important. We all have a perspective on buying a car for long-term use, and no one just wants to spend their money on useless things. Here in this article, we have enlightened the best electric car in India along with their specifications for your ease. Apart from this, you will also get to know about the aspects that can be brought into consideration for the purchase of electric cars.