Automobile
7 Best Scooty in India – With Mileage & Price (2021)
If you are planning to buy the best scooty in India and are doing your research on the same, you are absolutely on the right page. Everyone desires to own a personal vehicle and what can be better than a non-geared scooty. Two-wheelers gained immense popularity among the people of India because of their affordability and great features. When we talk about two-wheelers, how come it is not possible for one to consider scooty. Besides all, these gearless vehicles are reliable, easy to use, and cost-effective.
Over time, many leading automobile manufacturers have launched their models in the scooty segment to ace the game. Most of us prefer to purchase scooty for daily commuting needs because it offers great mileage. These features differ from the scooty model to model and knowing which one is best for you can be tricky.
Here we have brought up a list of the Best Scooty in India that you can purchase. To know more, read on the blog.
HONDA ACTIVA 5G
TVS JUPITER
SUZUKI ACCESS 125
HONDA DIO
TVS WEGO
YAMAHA FASCINO
HERO DESTINI 125
YAMAHA RAY-Z
APRILIA SR 150
HERO MAESTRO EDGE
1
HONDA ACTIVA 5G (New Launched Best Scooty in India)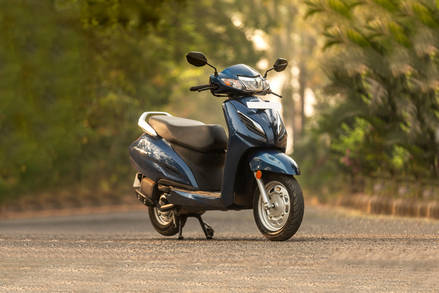 The Honda Activa 5G is powered with a 190.19 cc air-cooled engine with a single-cylinder. The engine produces a torque of 9Nm @ 5500rpm along with the power of 8bhp @ 7500 rpm. Activa got a ground clearance of 153 mm and the fuel tank's capacity was 5.3 L approximately. Besides, the total kerb weight of Honda Activa 5G is about 109 Kgs. Honda Activa is best selling scooty in India, and it has been the first choice for many people out there. The first variant of Activa was introduced in 2000, and it managed to create a good customer base in the market. 
Activa comes with pretty simple to understand underpinnings. It comes with trailing-link first suspension, with a single shock at the rear brake and drum brakes at both ends. The Honda Activa was the first two-wheeler automobile in the country to get a 'combined braking system'. The diameter of the wheels is 10-inches offering better front wheel suspension. 
Scooter Name:

HONDA ACTIVA 5G

Mileage:

60km/l

Tyres:

Tubeless

Price:

Rs 55,828 Onwards
2
TVS JUPITER
TVS brought its best scooty variant in 2013, and a plethora of customers loved it. This resulted in making it the second highest-selling non-geared 2-wheeler automobile in India. TVS Jupiter was manufactured to offer the best service at the most reliable prices. Jupiter is powered by a 109.7cc single-cylinder engine that complies with BS6 emission norms. The BS6 variant of TVS generates 7.47PS of power and 8.4Nm torque, which is 0.51PS less than the BS4 version. However, the torque is the same for both variants. 
There are many variants of Jupiter available in the market, and you can choose any one of them according to your convenience. The BS6 variant of this automobile is 1kg heavier than before, and its approximate weight is 109 Kgs. Besides, it features drum brakes on the rear and back tyres of the scooty. Earlier variants were equipped with halogen lights, but the newer version has replaced them with LED lights. 
Scooter Name:

TVS JUPITER 

Mileage:

62 km/l

Tyres:

Tubeless

Price:

Rs 54,701 Onwards
3
SUZUKI ACCESS 125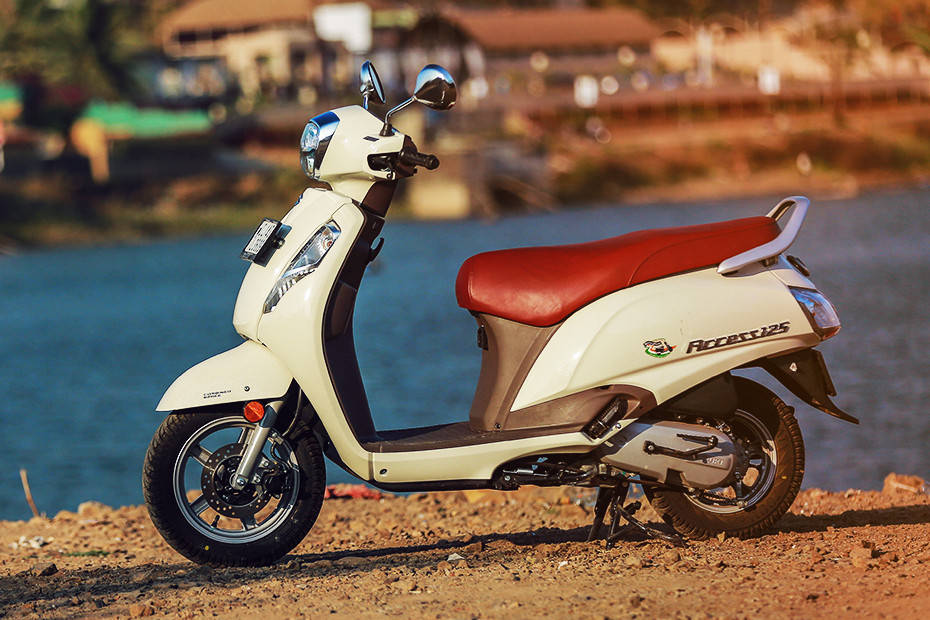 Another on the list of best scooty in India is Suzuki Access 125. It is compiled with a 124cc single-cylinder engine, and now it has been made fuel-injected. This leads to the smoother working of the motor than ever before. The latest BS6 updates in the scooty brought engine performance change as the power is 8.7 PS with 10Nm torque. Although, the previous version of this automobile had the same power but low torque by approximately 0.2 Nm. Some variants offer disc brake features while some offer drum brake feature depending on their price. 
Talking about its new features, the LED lights of scooty got a chrome bezel along with an eco-assist indicator in the semi-digital information panel. Finally, the new version of Access 125 gets the external fuel filler cap. The updated features of this scooty variant have enhanced its practicality. 
Scooter Name:

SUZUKI ACCESS 125 

Mileage:

64 km/l

Tyres:

Tubeless

Price:

Rs 58,147 Onwards
4
HONDA DIO 
The BS6 variant of Honda Dio is featured with the fuel-injected 109.51cc air-cooled engine, and it is the same engine featured in Activa 6G. The engine of this scooty makes a power of 7.76 PS @ 8000 rpm along with 9 Nm torque at 4750 pm. This automobile rides in bigger 12-inch steel wheels in front and has 10-inch wheels at the rear side of the scooty. The only thing that remained unchanged in this scooty variant is its 130mm drum brakes.
Honda Dio is equipped with all the latest features such as tumble flow, friction reduction technology, external fuel filler cap, engine cutoff function, and side-stand indicator. Also, it comes with a refurbished fully digital instrument cluster that shows average mileage apart from the regular set of information. 
Scooter Name:

HONDA DIO 

Mileage:

66 km/l

Tyres:

Tubeless

Price:

Rs 54,136 Onwards
5
TVS WEGO (Best Scooty in India)
The TVS Wego has been listed as the best female-oriented scooter because it has low kerb weight and saddle height. This first modern non-gear two-wheeler automobile was launched a few years back in the Indian market. This scooty features metal body panels, but the weight is around 108 Kgs. It is considered one of the lightest scooters in this segment. Wego is powered by a 110cc air-cooled engine producing a power of 8 PS along with 8.4 Nm of torque. 
It was the first scooty that offered the disc brake as an optional addition. Besides, the 12-inch alloy wheels of Wego provide improved dynamics as well as stability. The suspension setup of Wigo includes the telescopic fork and gas-charged mono-shock. Also, the features of the scooty include a mobile charging socket, backlit ignition key slot, 16-litres under-seat storage, and external fuel filler cap. 
Scooter Name:

TVS WEGO 

Mileage:

70 km/l

Tyres:

Tubeless

Price:

Rs 53,448 Onwards
6
YAMAHA FASCINO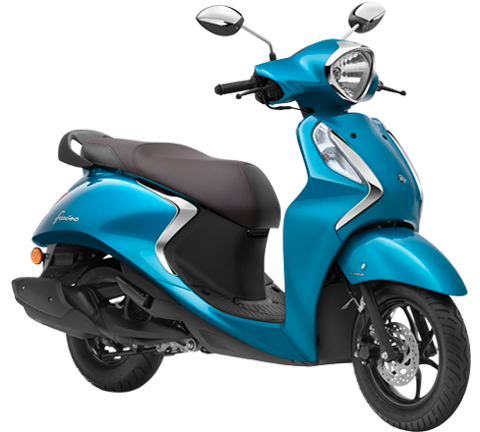 Being listed as the top-selling scooty in India, Fascino comes with a new fuel-injected 125 cc motor in its BS6 compliant. It is directed to deliver a torque of 9.7 Nm at 5000 rpm along with the power of 8.2 PS at 6500 pm. The new engine made the BS6 variant more powerful than the BS4 variant and offered a better mileage. The design of the scooty is similar to the BS4 variant but has many improvements. The headlamp of the scooty is equipped with a concave lens while the new tail lamp has a 'V' pattern. 
The new version of Yamaha Fascino gets an optional under-seat USB charger and a new side-stand cut off switch. The new frame of the scooty allows its floorboard and seat to look longer than before. Also, this update in the frame of scooty helped it to be 4 kg lighter than before. It also gets telescopic monoshock and forks having 10-inch rear and 12-inch front alloy wheels. At last, it has a front disc, and rear drum brake with CBS features for safety. 
Scooter Name:

YAMAHA FASCINO

Mileage:

66 km/l

Tyres:

Tubeless

Price:

Rs 56, 682 Onwards
7
HERO DESTINI 125
Hero Destini has been loved by many people out there due to its extravagant features. Thus, the BS4 version has got some remarkable updates. The top-variant scooty comes with option disc brakes at the front tyres, while the standard version has Hero's Integrated Braking System. It has experienced minor cosmetic changes such as a new 3D logo, new paint scheme, and LED DRLs. 
Destini new version is powered with a 124.6cc fuel-injected air-cooled single-cylinder engine. The engine manages to make a power of approximately 9.1 PS at 7000 rpm and 10.4 Nm at 5500 pm. The manufacturer had made the engine slightly torquier and more powerful for a smooth run. On the other hand, the BS4 compliant motor was making 10.2 Nm torque and 8.7 PS power. The Destini 125 is equipped with an i3S idle-start-stop system paired with a digital-analog instrument cluster.
Scooter Name:

HERO DESTINI 125

Mileage:

66 km/l

Tyres:

Tubeless

Price:

Rs 56, 350 Onwards
8
YAMAHA RAY-Z Scooty India
RAY-Z might be an oddball for design, but it stands apart from the crowd due to its good features. This new variant has a 125cc air-cooled 4-stroke engine, and it replaced the old 110c engine. The new powered engine of this best scooty in India produces a power of 8.2 PS at 6500 rpm and a torque of 9.7 Nm @ 5000 rpm. This model of RAY-Z's present weight is approximately 99 Kgs, which is 4 Kgs lower than the previous models. 
This Yamaha Scooty variant has telescopic suspension in the front with disc or drum brake options. While the rear brakes have no choice and they are drum brakes with a unified braking system. Both the wheels have alloy wheels, and the diameter for the front & back wheel is 12-inches & 10-inches. 
Scooter Name:

YAMAHA RAY-Z

Mileage:

66 km/l

Tyres:

Tubeless

Price:

Rs 55, 519 Onwards
9
APRILIA SR 150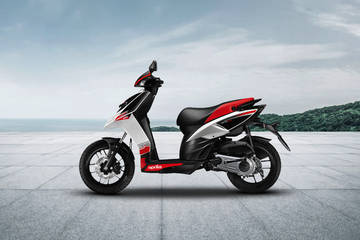 It is the flagship sporty scooter of the manufacturer 'Aprilia', and it targets to offer you style and performance as a top priority. The Aprilia SR 150 is powered with the 150cc engine, typically procured from the Vespa S150. This variant from Aprilia produces a power of about 11.4 bhp along with 11.5 Nm of torque. This scooty rides on the black metallic alloy wheels. The front tyres have standard telescopic suspension while the rear tyres are equipped with single-side coil springs. Also, it features drum brakes at the rear tyres and disc brakes at the front tyres. 
This model has the optional part-digital instrument cluster which usually retains an analogue speedometer. Also, the indicators have been positioned on the handlebar as headlamps are consolidated inside the covering. Talking about its features, it has a kick and button start option, navigation, and vehicle tracking through a mobile application. 
Scooter Name:

APRILIA SR 150

Mileage:

62 km/l

Tyres:

Tubeless

Price:

Rs 1,00,751 Onwards
10
HERO MAESTRO EDGE
Hero added a new-paint scheme in their latest model of Maestro to make it different from the BS4 variant. It is known to be one of India's best selling scooters, and it provides amazing mileage to users. Besides, Maestro is powered with a 110.9 cc air-cooled engine producing a power of 8.83 PS along with a torque of 10.4 Nm.
The suspension setup of this scooty includes tyres with 10inch rear and 12-inch front alloy wheels: a single hydraulic shock absorber and telescopic forks. Hero Maestro Edge's FI Variant is equipped with a rear drum brake and standard front disc brake. Besides, it comes with extravagant features such as XSens technology, i3S technology, charging point, LED taillight, and low fuel indicator. 
Scooter Name:

HERO MAESTRO EDGE

Mileage:

62 km/l

Tyres:

Tubeless

Price:

Rs 94,533 Onwards
Buying Guide for Best Scooty in India
Owning a non-gear two-wheeler can be advantageous as you can save on your time without getting stuck in traffic. This is the best part about most two-wheelers that they can pass through any road. Well, it is important to choose a two-wheeler wisely because spending time and money on its regular repair wouldn't be worth it. Here we have brought you some things to bring into consideration before the purchase of a top-selling scooty in India. 
Mileage
It is the foremost thing that should be kept in mind because your fuel bills should not cross your monthly budget. Owning a two-wheeler means saving some extra bucks in comparison to a car or any other vehicle. So, always prefer a scooter that offers you great mileage for your daily commuting needs. 
Budget 
Budget is also a prime consideration in every investment, whether for vehicles or any other purpose. Therefore, you need to decide your budget first and then look out for the most reliable options available in your budget. 
Model and Size 
When you think of purchasing a two-wheeler, you would want to get one offering great performance. For this, never rely on old models and look for the latest models available for sale in your location. To ride a scooty with safety, you need to ensure your feet are touching the ground, and choosing a scooty of ideal size would be the best thing to do. 
Maintenance 
While purchasing a scooty for your daily commuting purposes, you need to consider its maintenance prospects as well. These prospects can be changing oils regularly, changing air filters, changing plugs, and maintaining tires. Always choose a vehicle with durable components that do not require regular maintenance.
Conclusion
It can be tricky for you to choose the Best Scooty in India with too many options. Here in this article, we have enumerated the top 10 best scooty available. You can get to know about these automobiles in detail with the help of this article.