If there is one drink that can bring the country together, it is the right old-fashioned whiskey. It is undoubtedly India's leading drink. Moreover, India is also the Globe's top whisky manufacturers and distributors. But selecting the best whiskey in India can be a bit difficult. Several studies show that whiskey has some advantages if consumed appropriately. It helps in weight loss, digestion, preventing diabetes, and releasing stress, but you will get these benefits only if you take it in a reasonable quantity.
Apart from this, whiskey is also considered a sign of celebration in indoor and outdoor parties. Some people like to have it after a long tiresome day. Also, whiskey can be a perfect addition to classic cocktails. Therefore, we have listed down some of the best whiskey in India. They are not only increasing the sales figures but will also make you smack your lips. So, whether you are looking for a peaceful weekend sipper on chilling stones or on the rocks, we have got the exquisite bottle for you. Read on!
List of Best Whiskey in India
In this section, we've put together the few best whiskies in India with their price. These are the brands that are currently selling whisky in India. Besides, they are performing well both in quality as well as sales.
1
Royal Stag
Royal Stag, also recognized as Seagram's Royal Stag, is one of the best Indian liquor brands established in 1995. It is available in various pack sizes worldwide and one of the best whiskey in India. Besides, Royal Stag whiskey is made from a combination of wheat and imported scotch malts. Also, the product is labelled on the bottle below a symbol of deer species, famous for its antlers. 
Furthermore, Royal Stag is also one of the most highly rated whisky products under 1000 INR available in the Indian market. Additionally, it was the first company in India that didn't use any artificial flavours in its whiskey. It is also Pernod Ricard's best-selling brand by volume. 
Price: Rs. 974 for 750 ml
Alcohol by Volume Percentage: 42.8%
2
Mc Dowell's No. 1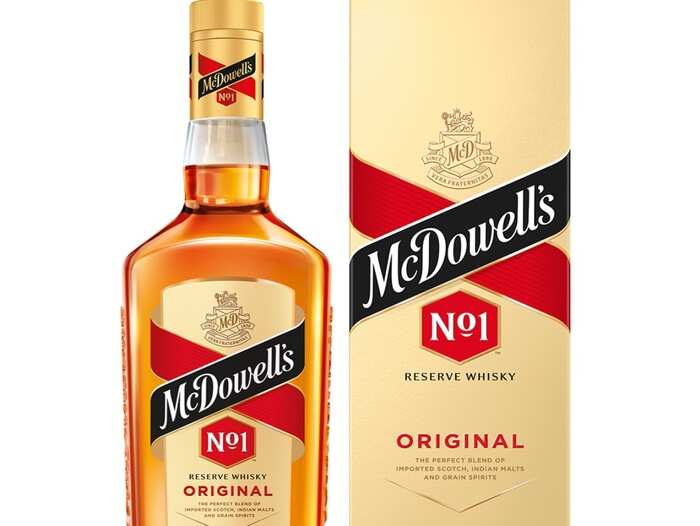 McDowell's No. 1 was first introduced in 1963-64 with McDowell's No.1 Brandy launch. The business was acquired by the United Breweries Organization in 1951. Moreover, It is a licensed trademark of USL and the world's most extensive blended whiskey product consisting of three types, whisky, rum, and brandy. McDowell's company also provides drinking water and soda. 
Today McDowell's No.1 brand objective is to empower friends to enjoy the bonds of true brotherhood. The best point about this brand is that it has fewer alcohol levels; therefore, it is acceptable for beginners. Also, it is one of the best whiskies under 1500, which is very prominent in India. Lastly, McDowell's No.1 has renewed its brand identity and packaging to complement its existing visuals. 
Price: Rs. 760 for 750 ml
Alcohol by Volume Percentage: 40%
3
Dewars 18 (Best Whiskey in India)
Dewar's 18 is a smooth, easy-to-sip whisky that is perfect for any special occasion. It is one of the best whiskey in India and also the top-rated whiskies all over the world. Dewar's iconic 18-year-old drink is a fantastic blended scotch. Moreover, it is owned by Bacardi and is a mix of 40 single malt and grain whiskies from Scotland. The whisky is aged in vintage oak barrels, resulting in a unique blend with a creamy finish. Besides, the subtle vanilla and fudge flavours appear to slide off the tongue.
Additionally, this whiskey had also won the gold medal at the International Wine and Spirits Competition in 2012. Therefore, it clearly explains why Dewars 18 consistently rank at the top of most lists of India's best whiskey brands. Each bottle of Dewars 18 has whiskies from the five malt distilleries owned by John Dewar and Sons.
Price: Rs.1700 for 750ml
Alcohol by Volume Percentage: 40%
4
Black Dog Reserve
Black Dog Reserve is an old and uncommon beverage with a smooth mixture of grain whiskies and malt from Scotland. Besides, it has an excellent reputation and a unique taste. It is considered a highly sophisticated drink and needs to be savoured because it contains various flavours.
Furthermore, the amber glass bottle carries a liquid of beautiful scent of matured wood and some rich malt taste. The flavours are combined with vanilla, fruity, and sherry sweetness that delicately smoothed out with some ice cubes and a swig of water. Therefore, the Black Dog bottle will offer you a bouquet of flavours of Scotland. This whiskey brand is doing well in the Indian business and holds enough share in India's blended scotch whisky list. 
Price: Rs. 2000 for 750 ml
Alcohol by Volume Percentage: 42.8%
5
Jack Daniel's Old No.7
Jack Daniel's is undeniably one of the best whiskey in India that doesn't require any introduction. Jack Daniel's Tennessee Whiskey comes from the oldest registered distillery in the United States. And then go through charcoal mellowed, which passes through 10 feet of sugar maple charcoal. Moreover, the Distellery founded by Mr Jack Daniel in Lynchburg, Tennessee, in 1866. Additionally, it is the best-known producer of whiskey worldwide.
Apart from this, Jack Daniel's whiskey is popular in the world of alcohol and is also famous in pop culture. If you ever take one sip of this smooth and sweet whiskey, you will get to know why. This brand has been awarded seven gold medals for its quality and different taste. All packed with butterscotch notes and long toasted oak, making the perfect combo with a cube of ice, cola, or soda of your choice. 
Price: Rs.4,590 for 750 ml
Alcohol by Volume Percentage: 40%
6
Monkey Shoulder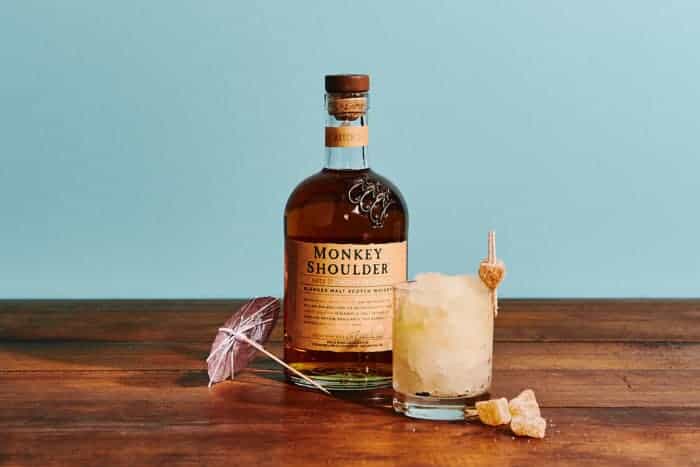 Monkey Shoulder Whiskey is an ideal mix of different single mat whiskies from the three best Speyside distilleries. The Kininvie, Glenfiddich, and Balvenie blended together to generate a rich taste and smooth consistency. Undoubtedly it is one of the simplest scotch whiskies to drink that gives a flavour of sweet caramel, orange zest, and vanilla notes. 
Additionally, one of the best whisky in India, Monkey Shoulder, fills the gap between premium whiskies and fun efficiently. Besides, its witty name has a history of its own. Decades ago, some malt men suffered from a strain injury that caused their arm to hang down similarly like a monkey's; therefore, they gave it the name 'Monkey Shoulder.' Enjoy the subtle vanilla aromas with spicy notes, and sip this drink on the rocks or in a cocktail. 
Price: Rs.3,990 (Approx.) for 700 ml
Alcohol by Volume Percentage: 40 to 43%
7
Vat 69 (Best Whiskey in India)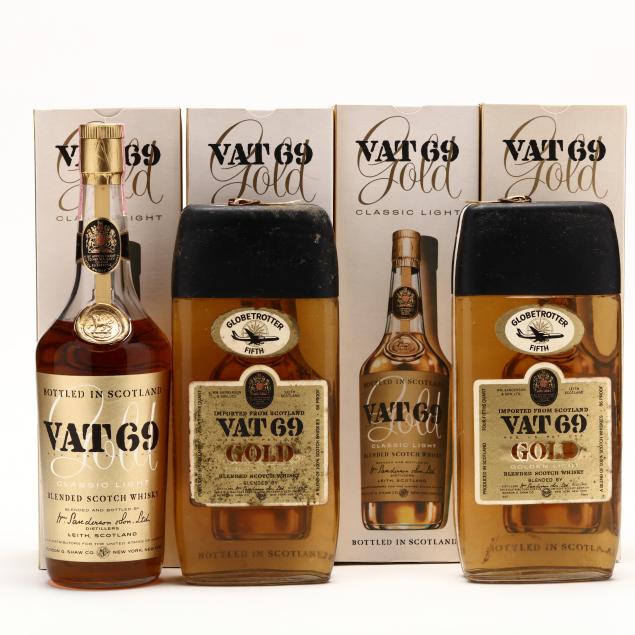 A pleasant, simple blended scotch Vat 69 has a current recipe that comprises some 40 malts and grain whiskies. Also, it is a well-balanced drink with a unique sweetness of vanilla, holding a rich heritage behind it. Vat 60 is also one of the most famous blended scotch whiskies that many people in India consume. Possibly because of its affordable pricing combined with its distinctive smoothness as a whiskey.  
Furthermore, William Sanderson, in 1882, a Scottish manufacturer in liquor, produced up to 100 different vattings of whiskey. He also hired a special panel of specialist whisky tasters to declared the best one. Among all, the 69th vatting was picked, and the whisky named Vat 69 was born. Since then, it has become a renowned whisky worldwide and comes under the list of the best whiskey in India. 
Price: Rs. 1856 for 750ml
Alcohol by Volume Percentage: 40%
I hope we have covered most of it. Of course, the greatest whiskey brands in India's alcohol market is constantly expanding. But the above-mentioned ones are definitely some of the best whiskey in India. These brands make a name for themselves in the premium whiskey industry, providing whiskey lovers with great taste and quality. So, till the next time, Bottoms up!